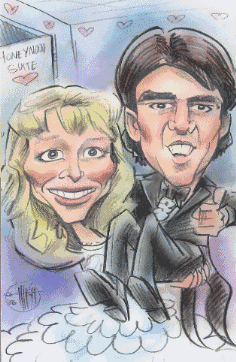 MATT
Matt (pictured here with wife, Lisa) is the nutcake responsible for Super Klutz.
Besides being a cartoonist, Matt is also the father of two (both daughters - Shelby, 6, and Kaylee, 4), husband of one (Lisa), Head of Envelope Games (a tiny little independent board game company), manager of the local Software Etc. store, word processor guru, graphic designer, sound designer, singer / songwriter / musician, (bad) fiction writer, (good, he likes to think) non-fiction writer, narrator, devout reader, and whatever else catches his fancy.
Matt loves e-mail, so feel free to drop him a line any time at EnvGames@hotmail.com!